Cruising

nke instruments are user-friendly and offer unique benefits in terms of  functionality and versatility. Each device has been designed to make sailing easy and safe for the helmsman and crew. nke systems are sea trialled in the most extreme conditions and have been proven around the world for more than 30 years.
Data carried by the bus is displayed with channel id and units.
Our cruising system is built around the pilot to bring the best comfort and safety. The gyrometer integrated in the Gyropilot's processor ensures quick response and course stability.
Optimum safety and comfort: our autopilot has been proven whilst steering Vendee Globe boats for 95% of the race even in the roughest conditions.
Ease of use: one single display, the Multigraphic or the Gyropilot Graphic controls the autopilot while displaying navigation data and AIS targets.
For your safety, we offer MOB device connected to the system. Bearing and distance to event are displayed on every multifunction display. The system sends a M.O.B. sentence via the NMEA output to all compatible navigation software applications such as Adrena, MaxSea, Expedition…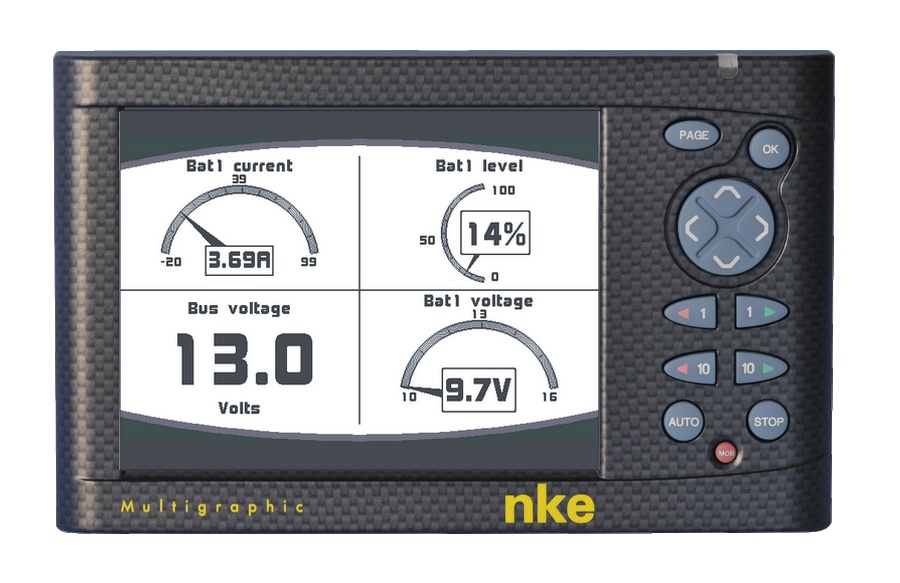 Instruments